Week 1 of our 12 Weeks of Mac N Cheese!
In our house Mac N Cheese is not only a staple, but it is a must make every single week. My oldest son Andy LOVES Mac N Cheese.
It is his absolute favorite must have food. So we all get tired of it the same way and he likes it all ways....so in our house we love to experiment with some great Mac N Cheese recipes. We all have our favorite. The first one I am sharing with you today, is Andy's favorite (today, haha) and was created by my husband. So it's a total original recipe. I hope you enjoy. I like this one because it is creamy and full of great cheese.
Ingredients:
24 oz Sclafani baby shell 14 pasta
1/2 cup butter (unsalted, melted)
6 tbsp flour (all purpose)
1/4 tsp spicy brown mustard
1/4 tsp coarse kosher salt
1/4 tsp ground black pepper
1 cup Lactaid Milk
3 cups almond milk (unsweetened vanilla)
1 cup Wisconsin sharp cheddar cheese (grated)
1 cup Extra sharp cheddar cheese (grated)
1/2 cup Jarlsberg cheese (grated)
1/4 cup Le Gruyere cheese (grated)
1/4 cup Fontina cheese (grated)
1/4 cup Asiago cheese (grated)
1/4 cup Pecorino Romano cheese (grated)
8 oz (1 cup) Velveeta cheese (cubed)
1 tsp Franks Hot Sauce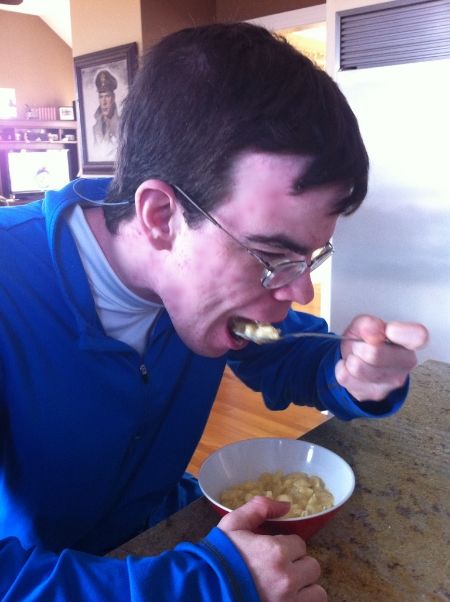 Directions:
Cook shells in boiling water for 9 mins.
Drain and set aside.
In a large saucepan, melt butter.
Blend in flour, mustard, salt and pepper to the butter.
Cook until mixture is smooth and bubbly; gradually add both Lactaid and Almond milk. (we use these because we have one son who is Lactose Intolerant and this helps him with all the cheese that is in this recipe. But you could just use milk, but I really like the flavor the Almond milk adds to it.)
Cook and stir over medium heat until mixture boils and starts to thicken; simmer one minute stirring constantly.
Gradually mix in cheese over low heat. Stir until completely melted.
Add hot sauce and stir.
Add pasta to cheese. Mix together.
Salt and pepper to taste, if desired.
ENJOY!!!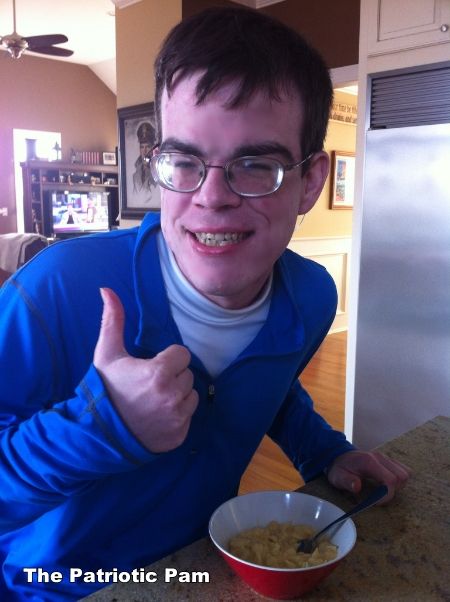 Andy, our avid Mac N Cheese consumer, gives it his thumbs up!!! This is definitely a family favorite and the most creamy we make. I hope you try and enjoy it as much as we do!!!
Enjoy!!!
The recipe is shared at:
and
and

and
.
and