Ingredients:
4 boneless skinless chicken breast
8 oz of cream cheese
4 oz of shredded cheddar cheese
1 tsp of garlic salt
4 pieces of cooked bacon
salt and pepper to taste
Directions:
1. We first take the four chicken breast and use the meat tenderizer and pound them thin! This is important to make the chicken tender. I use the
OXO SteeL Meat Tenderizer (Google Affiliate Ad)
.
2. Next I spray my 9x13 glass baking dish with Pam cooking spray. (You could butter it instead)
3. Then I lay the chicken in the bottom of the 9x13 pan.
4. Heat the cream cheese in a glass dish for 30sec in microwave. Stir
5. Add 1 tsp of garlic salt to cream cheese, mix.
6. Spread cream cheese mixture onto top of chicken.
7. Sprinkle with cheddar cheese.
8. Add bacon.
9. Bake in oven at 350 degrees for 45 mins or until chicken reaches internal temperature of 170. (NOTE: during cooking chicken will produce liquid. When you pull it out of the oven, let it sit for 10 minutes before serving to reabsorb juices.)
10. Salt and pepper to taste when serving.
This is simple and tastes great. We served with rice, but could be served with mashed potatoes, or just your vegies. It was filling and yummy. Served 4 with leftovers at our house. Made to serve 4.
Enjoy!
This post is shared at:
and
and
and

and
and
and
and
and
and
and
and

and
and
and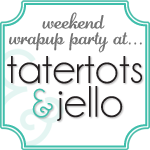 and