Wowza Weekend
Link Party #26
& Features from Link Party #25
On this party, we are trying a little something new. Not only are we going to continue the link up for your best projects, but now each week, I am going to add below this link up two SOCIAL link ups for the week. Feel free to link up and meet others. Each week I will focus on different social media
I am looking to expand just a little and would love to find a few great blogs willing to co-host this weekend link party. If you are interested please send me an email.
Thanks to those who linked up last week. This week we have 4 new features.
FEATURES:
1. Susan from Designs of Home shared these amazing looking Sweet & Salty Pumpkin Cupcakes. She not only shares her amazing recipe but she also shares great tips to freeze cupcakes too.
2. Pam from Pam's Party & Practical Tips shared these adorable Bat & Spider pumpkins. She shares her great how-to tips and gives links to even more fun pumpkins she has made.
3. Wendi from H2O Bungalow shared with us her beautiful DIY Metallic Pumpkins. They are so beachy and fun.
4. Maria from Krafty Card Etc. shared with us her favorite FREE Halloween Fonts. How fun is that for this time of year.
Thank you to all our amazing FEATURES! Feel free to grab and post on your featured page.
Please help me grow this link party by sharing on your social media...THANKS!!!
LINK PARTY RULES:
Link directly to your post, not your blog's main page. I am interested in seeing links to great recipes, fun crafts and any tips (including military spouse tips).
Please grab my button and place it on your blog post or somewhere on your website so others hear about this party too.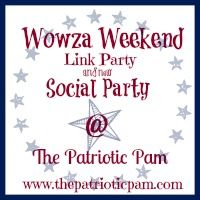 Please follow me by at least one of the following ways:
Be friendly...and check out others links...leave them some blog loving comments too.
SOCIAL PARTY TOO:
Two link ups below....one for Facebook Pages (Any blog, business, or organization Facebook page that you think our readers would be interested in) Please LIKE the HOST & Co-HOST to participate on both! The second will be a Twitter Link Up....(anyone can participate)...Please follow the HOST & find at least 3 others to be social with too. Let them know you found them via #WowzaWeekend
FACEBOOK
Link to your Facebook Page and place the name of your Blog, business, or organization in the NAME space.
TWITTER
Link to your Twitter (ME) page and place your name with it.
Thanks for stopping by...share this party with others, so that it continues to grow. Have an amazing weekend.
EnJoY!